All Your Medical Consults and Prescriptions on One Easy Platform
WePrescribe treats a wide range of routine concerns and conditions, as well as providing assistance with prescription refills as well as new prescriptions. Physician consultations is a flat rate of $49.99 per consultation. Medication cost is separate and can be paid for with insurance or out-of-pocket directly to your pharmacy.
Receive your medicine the same day if picking up from your local pharmacy, or in 1-2 days when opting for WePrescribe's convenient delivery option.
For mental health therapy session fees see "Video Call with a Certified Therapist" below.
We're open daily from 6:00 a.m.  – 10:00 p.m. Hawaii Standard Time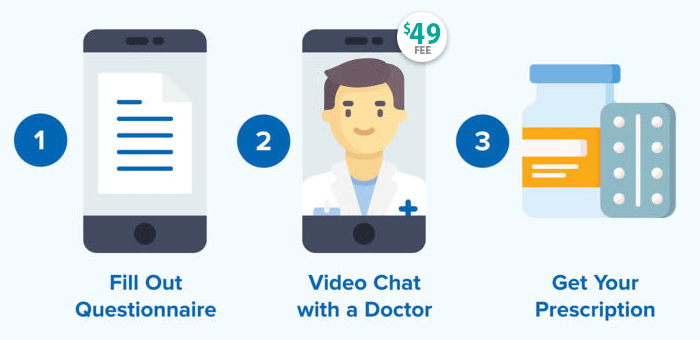 Fill out a short questionnaire on our website
Meet with a qualified doctor via your phone or computer
Pick up your Rx at your local pharmacy, or have it delivered
Video Call with a Certified Therapist
For behavior and mental health, we offer different time schedules. You can schedule a video chat with a licensed Psychologist for 20, 40, or 60 minutes. The session is timed, but you can add more time on as needed. 
20 Minutes – $49.99
40 Minutes – $89.99
60 Minutes – $129.99
You can video chat with a doctor within 1 hour. Skip the waiting the waiting room and get treated for common illnesses, by our team of board-certified physicians. We also provide prescription refills and sick notes.
To get started click on a condition below:
A sick note is an official doctor's note or medical certificate that proves you've
been ill. If you are too sick to work or travel, you may be asked for a sick note
to justify your absence.
WePrescribe provides prescription refills for a variety of medications.
You can video consult with a doctor within 1 hour and get your meds on the same day.